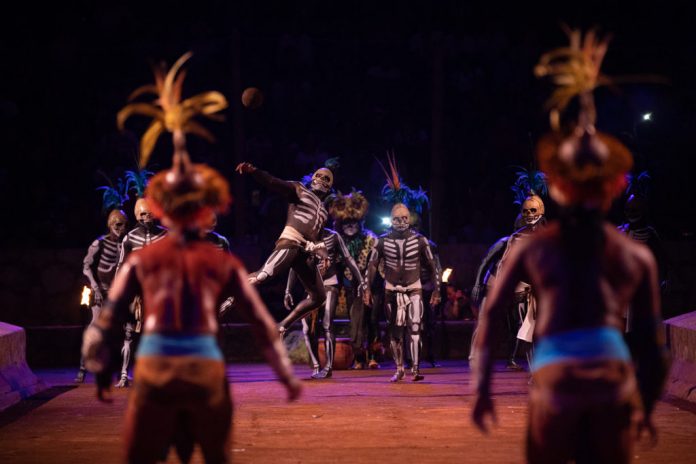 The state of Yucatan is the guest of honor at the 12th edition of the Festival of Life and Death Traditions of Xcaret, to be held from October 30th to November 2nd, in Cancun and the Riviera Maya, in Quintana Roo, Mexico. Each year the festival receives about fifty thousand visitors.
It is an event that combines theater, music, dance, tours, expositions and exhibitions, as well as interactive workshops. Since its creation in 2006, visitors have had the opportunity to get in touch with one of Mexico's most celebrated celebrations, the Day of the Dead, a ritual cataloged by UNESCO as an Intangible Cultural Heritage of Humanity.
During the festival (www.festivaldevidaymuerte.com/en/), guests can visit a Mexican cemetery adorned with flowers and candles, learn how traditional Day of the Dead food is prepared, and appreciate the famous altars that families prepare to receive the souls of their deceased relatives.
The Yucatan delegation attends the festival with a group of traditional cooks, artisans and community art groups, who directly offer their products to visitors, and participate in presentations in various forums.
On the nights of the festival it is common to appreciate characters dressed as "La Catrina", a representation of death, characterized by having a cheerful and festive attitude. In Mexico it has become popular as a representation of the optimistic persona of the Mexican in the face of adversity.
During these days visitors paint their faces with the image of a skull, and enjoy the great party between scenes of music, dance and theater, with works inspired by the themes of life and death.
Mexican pre-Hispanic cultures have worshiped death since their inceptions, and consider death to be conceived as a duality of life, a fundamental part of the cycle of nature. With the arrival of the Spanish conquerors, the rituals merged and gave rise to the tradition of the Day of the Dead.
The program of activities is available at the website: www.festivaldevidaymuerte.com/en/
ABOUT XCARET
Xcaret is Mexico's Majestic Paradise located on the shore of the Caribbean Sea. Here you can find three Underground Rivers surrounded by magnificent natural scenery. The Park also features amazing marine and land species, protected by Xcaret's conservation programs, and a grand spectacle with more than 300 artists on stage.
MORE INFO: www.grupoexperienciasxcaret.com