Playa del Carmen, Cancun, Tulum, Puerto Morelos, Cozumel and Valladolid, are the communities where we have a greater presence because most of our co-workers reside there and that is where the operation of our parks, tours and hotel are concentrated. Next to other actors such as government authorities, civil society organizations, academic faculties and companies, we focus our resources, time and talent on improving the quality of life of the population of these areas.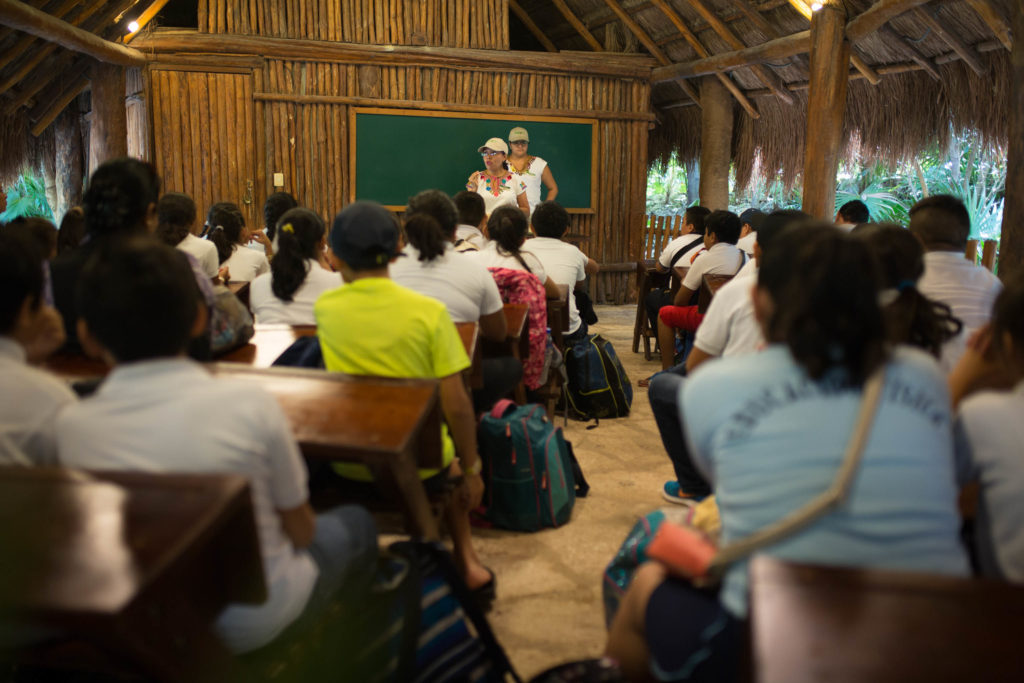 RESIDENTS OF QUINTANA ROO
During 2018, we had discounts on admissions and special benefits for citizens of the state of Quintana Roo throughout the year, it was valid every day and in all our parks and tours. In addition, in 2015 we launched the "Soy Xcaret" membership card; an exclusive program for Quintana Roo and Valladolid residents that allows unlimited access to Xcaret park for one year, including exclusive discounts and benefits. We are convinced that people have the power to transform Mexico through their actions and commitment. In an electoral environment, Architect Miguel Quintana, president and general director of the group, shared his vision with the public so that united Mexicans could contribute to building a prosperous, healthy, sustainable, fair and peaceful Mexico, through the letter titled "The Mexico that I dream of", supporting any elected candidate. In addition, we encourage the participation of Quintana Roo citizens. In July 2018 we carried out a campaign of civic promotion of the vote, in which we received 5,991 citizens for free in Xcaret park.
RELATIONSHIP WITH THE ACADEMY
With the purpose of contributing to the training of future professionals in the sector and at the same time improving employability, through the Academic Vinculation Program we received 919 students from 64 national and foreign academic institutions, who completed 673,162 hours of professional practices.
Additionally, we implemented a pilot program called "Xcaret-TECMilenio Summer Program", which takes advantage of possible positions during the summer season to ofer a first job opportunity to young people in the training process of this university. The program aims to support an important development required for the students that join the operation of the parks and the hotel.
EDUCATION FOR SUSTAINABLE DEVELOPMENT
We have committed ourselves to contributing to the education of our state through educational programs and tours for sustainability and cultural interpretation aimed at public schools and universities. In 2018, Xcaret and Xel-Há gave free admission to 13,009 students and teachers from 318 schools in the eleven municipalities of the state, as part of the agreement we had signed several years ago with the Secretariat of Education and Culture.
RELATIONSHIP WITH CIVIL SOCIETY ORGANIZATIONS
The Mexico we dream of is a country that builds bridges; that is why we have established alliances with civil society organizations in Quintana Roo to contribute to the social and environmental development of the communities in which we have a presence.
FLORA, FAUNA Y CULTURA DE MÉXICO, A.C.
It is the philanthropic side of Grupo Xcaret that promotes the conservation of the natural and cultural heritage of Mexico through social, cultural and environmental programs in Playa del Carmen, Chemuyil city and Tulum.
MEXICAN RED CROSS CANCUN DELEGATION
In Grupo Xcaret, we dream of a Mexico where people are supportive; therefore, in the framework of the 2018 Annual Collection of the Mexican Red Cross, we made a donation of $1'689,500 MXN to the Cancun Delegation that contributes to the strengthening of emergency care services in Quintana Roo and assists tourists in emergency situations and disasters.