HEALTH
At Grupo Xcaret we prioritize the integrity and well-being of our visitors, guests, Mexico Destination Club members and coworkers. We take health very seriously and for this reason, we have created the 360° Xafety model that complements the measures and certifications on hygiene and food safety issues that we've been practicing.
We remind you that health is a matter of co-responsibility, that it is up to us all to take care of. We follow to the letter security protocols that are aligned with national laws and international standards. We ask you to follow the regulations, signs and indications at all times. Together we will make your visit an extraordinary experience.

360° Xafety
At Grupo Xcaret, we have always promoted the certification of our activities and operations. We have the support of prestigious organizations that certify our standards. Our processes contemplate all the guidelines in food handling, cleaning, supply chains, among others. Institutions of wide recognition worldwide support and certify our processes to guarantee that we abide by the highest standards of service. Our commitment to our visitors and guests moves us at every step to provide them with confidence and certainty, as well as providing them with spaces where they can feel comfortable with the assurance that they are in good hands.
Certifications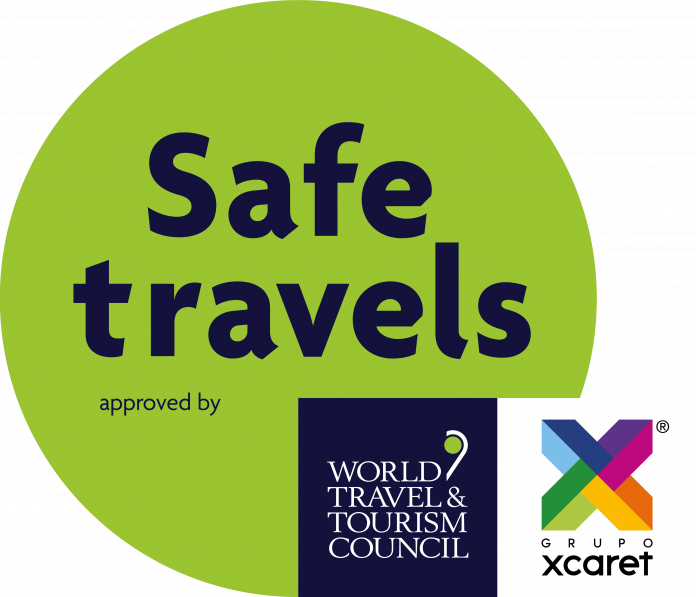 Safe Travels
Grupo Xcaret was the first recreational group in the world to receive this certification. Safe Travels was developed, endorsed and launched by members of the World Travel & Tourism Council (WTTC). An organization representing private sector tourism businesses, with the help of the World Health Organization (WHO), the Centers for Disease Control and Prevention, governments and other industry associations such as the International Air Transport Association (IATA), in order to recover tourism worldwide, while taking care of the health and safety of employees, visitors and, consequently, of the industry. It is a seal with which the total and correct application of hygiene and sanitation measures established in the protocols is recognized, both in destinations and companies, which have been divided according to the type of service. These include hotels, restaurants, cruise ships, car rental companies, airlines and airports, transportation companies, convention centers and tour operators.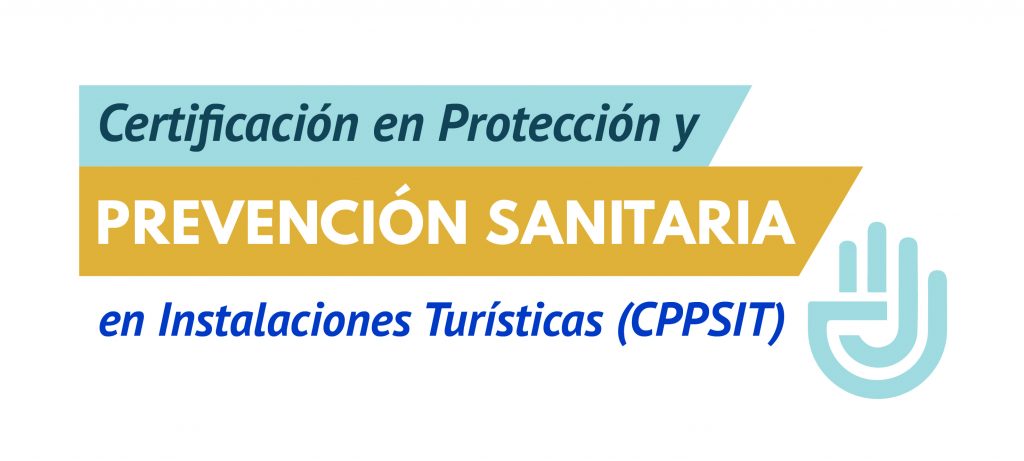 CPPSIT
The CPPSIT certificate is the accreditation in matters of Health Protection and Prevention. It consists of a set of criteria to certify the providers of tourist services and facilities directly related to the sector, through an online, free and self-application platform, through which compliance with protocols related to the implementation of actions in health matters is supervised.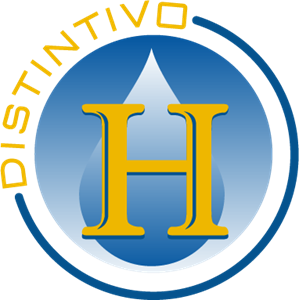 Distinctive H

This certification guarantees that all the food that you and your loved ones consume in our parks, tours and hotels are prepared with the highest standards of disinfection and hygiene. At Grupo Xcaret we have "Distinctive H" in all our consumption centers, including those destined for coworkers. The "Distinctive H" is the recognition granted by the Secretariat of Tourism, endorsed by the Secretariat of Health, to the providers of food and beverage services that meet the standards defined by this program: DISTINCTIVE "H". The points that the interested establishment must implement must be attached to the checklist of the current norm. In this case, the NMX-F-605- NORMEX-2004 Food Hygienic Management in the Prepared Food Service, to obtain the Distinctive H and which includes the points mentioned below:
Food reception
Storage
Handling of chemical substances
Refrigeration and freezing
Kitchen area
Water and ice
Health services for employees
Garbage management
Pest control
Bar staff


Cristal Food Check
CRISTAL has been developed as a tool in health and hygiene management, specifically for tourism industries. The Cristal system is based on the recognized system for the hygienic handling of food as described by Hazard Analysis and Critical Control Points (HACCP), which arose to guarantee the complete safety of operations in NASA's first space programs. Originated in the Codex Alimentarius, maintaining its validity by the commission, in conjunction with the FAO, UN, WHO and recognized by the World Trade Organization (WTO), as an international reference for the resolution of conflicts or disputes concerning food safety and consumer protection.
SAFETY
"Safety first" is our number one value. That is why we have a team of professionals made up of certified doctors, paramedics and lifeguards in all our parks, tours and hotels. Likewise, with certified personnel to perform rescue maneuvers at heights and aquatic rescues. We also have the necessary equipment for emergency care: ambulances, specialized kits for emergency care and first aid units equipped to give the first attention to incidents.
All our facilities comply with the regulations of the Civil Protection System, whose plan is audited by the authorities on an annual basis.
Additionally, we align ourselves to international standards and norms both in our facilities and in the operation of attractions. Grupo Xcaret has a Risk Self-Management System aligned to ISO 31000, which allows the strengthening of a culture of prevention. We are convinced that risk management must be born from the governance of the organization and is a process of continuous improvement that is constantly evolving. In all our parks, tours and hotels you will find availability of life jackets which use is mandatory for certain attractions. We ask that you don't leave children under 14 years of age without adult supervision during your visit. Likewise, that you take care of the elderly who come with you and who cannot fend for themselves.
Awards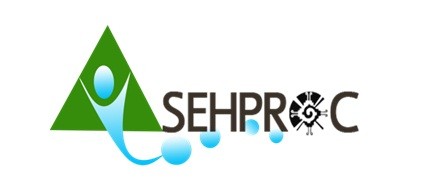 Ramazzini & Carvalho
Grupo Xcaret has obtained this award twice: 2017 and 2019. It is the highest distinctive of the Asociación de Seguridad, Higiene y Protección Civil A.C. (Civil Protection Association) to the performance achieved in more than 12 months, in the disciplines related to Health and Safety at Work, Civil Protection and Comprehensive Risk Management. It is awarded to people and organizations that have reliably demonstrated outstanding performance in the sector to which they belong.
Certifications


Cristal Safety Check
Risk assessment process to ensure that various aspects such as balconies, room conditions and general conditions of the hotels do not present risks of injury to guests or coworkers. To maintain certification, Cristal conducts regular audits to ensure that risks are controlled, and that management systems and procedures are effectively executed.

ACCT
The Association of Challenge Course Technology certification in all our heights adventure attractions such as zip-lines, suspension bridges, bird flight and rope course guarantees that the designs, materials, safety protocols, maintenance and facilities are aligned to the highest safety standards to world level. Likewise, it guarantees that the staff of the attractions have the specialized professional training required for their operation.
Standards and Adhesions

Members of the IAAPA Safety Committee
Safety is the number one priority for the attractions industry. IAAPA (International Association of Amusement Parks and Attractions) promotes the development of safety standards around the world, working with ASTM International and other standard-setting groups to develop and update industry safety and maintenance requirements.

Members of ASTM
The American Society for Testing and Materials, or ASTM International, is an international standards organization that develops and publishes voluntary technical standards agreements for a wide range of materials, products, systems and services. There are around 12,575 voluntary standards agreements with global application.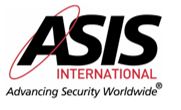 ASIS Internacional
A global community that brings together security professionals from more than 125 countries. It issues various certifications, standards and guidelines for the professionalization of security.