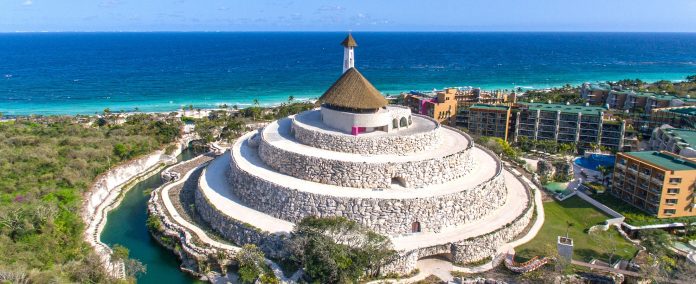 Xcaret Hotels are proud to announce that they have received the Sharecare Health Security VERIFIED™ with Forbes Travel Guide. Hotel Xcaret Mexico was awarded this certification by completing and maintaining verification of more than 360 global health and safety standards and Hotel Xcaret Arte will adhere to the new standards as they celebrate their grand opening on July 1. The health and safety certification was based on the following:
Health and hygiene protocols
Cleaning products and procedures
Masks and PPE
Ventilation
Management accountability
Health safety communication with guests and employees
Since March 2020 and to address the COVID-19 global pandemic, Hoteles Xcaret implemented the 360° Xafety Model aligned with the recommendations of the World Health Organization (WHO), World Tourism Organization (UNWTO), and the guidelines set by the International Association of Amusement Parks and Attractions (IAAPA).
The 360° Xafety Model is based on four main pillars: health and care processes (disinfection); capacity and seating (social distancing); control measures (people-centered); and quality and hygiene processes (food and beverage). A model aimed at protecting the safety of visitors, guests, partners, collaborators, and suppliers while maintaining the highest standards that have characterized Grupo Xcaret for the last 30 years. It has also provided support for international travelers regarding border requirements, travel guidelines and restrictions implemented due to the global pandemic to meet the needs of the guests during their hotel stay.
Grupo Xcaret has always been synonymous with safety and quality. "We have worked hard to develop rigorous health and safety practices to make Hoteles Xcaret a safe destination for our guests and make them feel at home when visiting our properties. Our main priority has been to provide safety and peace of mind so that our guests can continue building memories with us and enjoy an unforgettable experience," said Lizeth Álvarez, Chief Commercial Officer for Grupo Xcaret. "The Sharecare VERIFIED ™ recognition with Forbes Travel Guide is a testament to our efforts as we continue to adhere to the strictest hygiene standards for our guests."

For additional information about Xcaret Hotels, please visit www.hotelxcaret.com.