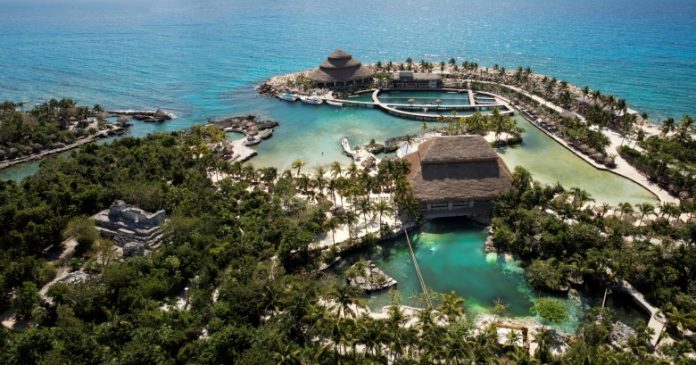 The Quintana Roo Government, through the Secretary of Education and Culture, in coordination with the private sector and civil society, established the Alliance for Environmental Education of Quintana Roo, to benefit at least seven thousand students and teachers from public schools during the present school term.
Thus, Grupo Experiencias Xcaret through Xcaret and Xel-Há parks, as well as Delphinus, the chain of dolphin habitats designed for interaction, with the support of Flora, Fauna and Culture of Mexico A.C., will provide for students services and experiences to get to know the richness of the coastal ecosystems of our State, as well as supporting their desire to learn more and participate actively in the conservation of these natural resources.
It is through didactic approaches that privilege the acquisition of knowledge in an experiential and participatory manner, which generates a significant knowledge for each student, particularly on terrestrial and marine ecosystems of the region.
Delphinus and Experiencias Xcaret are Mexican organizations with 25 years of experience that have maintained a close link with the Quintana Roo community since their foundations. Each organization has specific environmental education programs in which the natural and cultural heritage are elements that facilitate learning and the awareness of students.
Through this partnership, students who attend an Xcaret or Xel-Há environmental education program during the 2015-2016 school term, will be able to attend an educational visit at habitats for the interaction with dolphins that Delphinus operates in those parks, making the experience even more enriching.
It is estimated that by the end of the 2015-2016 school year there will be seven thousand students and teachers that benefit from this Alliance, who will freely live the experience of visiting the most emblematic parks of Quintana Roo and interact with dolphins, a flagship species that reminds us of the fragility and importance of marine ecosystems and their interaction with terrestrial ecosystems.           
Present during the announcement of this partnership were Secretary of Education and Culture of Quintana Roo, José Alberto Alonso Ovando; the Vice President of Grupo Experiencias Xcaret, Carlos Constandse; the Managing Director of Delphinus, Rodrigo Constandse; as well as the Managing Director of Flora, Fauna and Culture of Mexico, Guadalupe Quintana Pali.