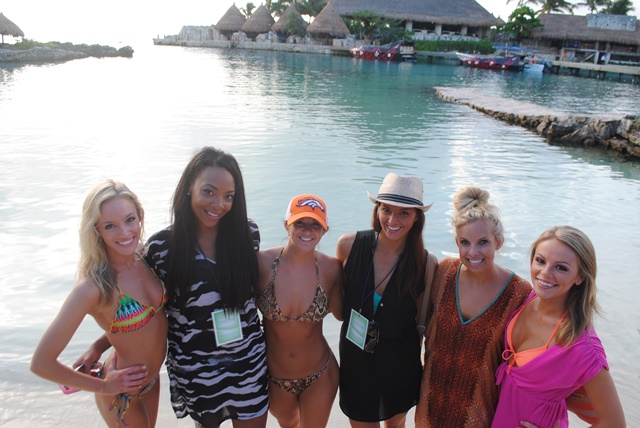 A group of the Denver Broncos cheerleaders visited Xcaret, Cancun and Riviera Maya, to prepare their 2015 calendar, as well as shooting a special program due to the beginning of the next season of the National Football League (NFL), which will be presented on September 24.
Thus, fans of the Denver Broncos will have the opportunity to see the famous cheerleaders of their favorite team in one of the most idyllic places in the Mexican Caribbean: a majestic Park on the seashore, with unique activities amidst the jungle in Cancun and Riviera Maya.
Lindsey, Michelle, Ashley, Gioia, Emily G. and Emily M., among other members of the squadron, had the opportunity to pose for the cameras in unique Xcaret Park locations such as: "Dos Playas", surrounded by rock formations, crystal clear water and the smoothest sand; and "Blue River", an
amazing waterfall at the end of rocky tunnels that connects with an underground river.
Other scenarios were "Pueblo Maya" a representation of a Mayan village surrounded by rustic houses, artisans and a river of turquoise waters; and the area of flamingos where you can observe these majestic pink feathered birds.
During their stay, the production team as well as the Denver Broncos cheerleaders swam in underground rivers, went over the attractions of Xcaret Park and enjoyed Mexican cuisine, as well as the Greatest Performance in Mexico "Xcaret México Espectacular".
Denver Broncos is a professional football team, founded in 1959. In recent years it has had rivalries with the Cleveland Browns, Pittsburgh Steelers and New England Patriots. This is the team where Peyton Manning plays, one of the best quarterbacks in the history of professional football.
The cheerleading team is extremely popular for their beauty, talent and because since 2003 they have toured various military bases in places like Egypt, Cuba, Iraq, Afghanistan, Italy, Japan and Australia. Their calendar containing photographs of members in unique settings is eagerly awaited.
Xcaret Park has become one of the favorite places for different NFL professional cheerleader teams to carry out the shooting of their traditional calendars, which highlight feminine beauty and the best tourist attractions of Cancun and Riviera Maya.