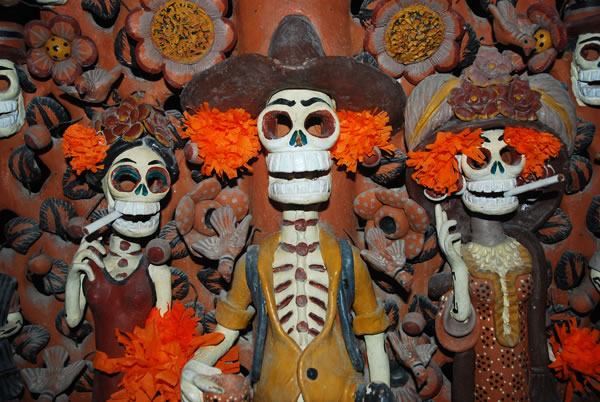 With the presence of the state of Zacatecas as a special guest, and the attendance of 30 communities and artistic groups, the 13th edition of the Festival of Life and Death Traditions at Xcaret will take place from October 30th to November 2nd in Cancun-Riviera Maya, Quintana Roo. During this period Xcaret will become a showcase for music, dance, theater, gastronomy, and other expressions related to the celebration of the Day of the Dead in Mexico, which is part of the list of the Oral and Intangible Heritage of Humanity of UNESCO.

When presenting the details of the programming, the Secretary of Tourism of Zacatecas, Eduardo Yarto Aponte, announced that a gastronomic sample will be offered with the best of the representative dishes of each of its regions. In turn, the artistic cast will present the theatrical work "Legends Night with the Zacatecas Devil". There will also be a guided tour called "Down into the Bowels of the Earth". In dance the Tenamaxtle group will exhibit a piece called "Dancing with Death", and the Tezcatl-Tlalli group will offer the "Papaqui to St. Sebastián and Jarabes". The music will be represented by "Tradición Jarabera Zacatecana" and the tamborazo by the group "Pericos Show" in an emotional "Callejoneada Zacatecana". There will also be "Revolutionary Corridos" with the Pitacoches, as well as concerts with the Percussion Ensemble of the Autonomous University of Zacatecas, and the typical Mexicantares ensemble with the play "Puras Calacas".

For her part, the festival's director, Leticia Aguerrebere Salido, presented the details of the program, which include the gala concert of Eli Guerra and Eugenia León, which will be offered together on November 1st at the Gran Tlachco Theater at Xcaret, and the individual concerts that each one will offer, on October 31st, Eugenia León, and on November 2nd, Eli Guerra.

Leticia Aguerrebere stressed that the artistic events will take place in 14 different scenarios, where there will be simultaneous presentations, so that attendees can choose between various theatrical expressions such as clown, circus, regional and community theater, as well as theatrical tours, varied expressions of dance, and the most representative of regional music. This year there are art groups from Quebec, Canada, and Colombia.
She highlighted the presentation of artistic groups from the Mayan zone, who share legends, stories and anecdotes, through dance, music, rituals and community theater dedicated to the faithful departed, and the always successful gastronomic display of the communities, in which the cooks present the best of their traditional cuisine. For its part, the Children and Youth Pavilion will offer novel games, narrations in movement, challenges, and dynamic and fun activities that surround life and death in Zacatecas and its wonderful past.

The Vice President of Experiencias Xcaret, Carlos Constandse, said that for almost 30 years Xcaret established a commitment to protect, promote and disseminate the natural and cultural heritage of Mexico. He said that over the years, the Festival of Life and Death at Xcaret has become a benchmark in the Yucatan Peninsula, on the way in which the people of Mexico celebrate the Day of the Dead. "It is of great interest for tourists who arrive at the destination Cancun and Riviera Maya, but it has also been a valuable element to strengthen the regional identity in the northern zone of Quintana Roo, where more than 90 percent of its inhabitants come from different parts of Mexico and the world," said the businessman.

The complete program of the festival, as well as the different access options for visitors, can be found on the site:
#FestivalVidayMuerte
@XcaretPark