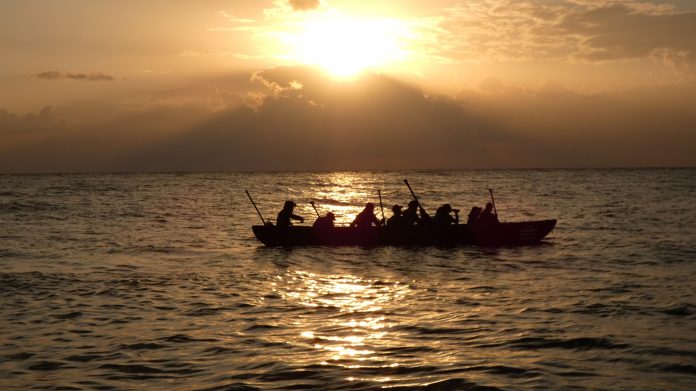 The 12th edition of the Sacred Mayan Journey will take place on May 25th and 26th, with the participation of 377 canoers, the highest number of participants that the event has had since its first edition, informed Leticia Aguerrebere Salido, its General Manager, thus ensuring that this effort to recover this pre-Hispanic tradition that had stopped being practiced for more than five centuries has been very successful.
Aguerrebere Salido assured that the Sacred Mayan Journey is not only an event that generates great expectations year after year, but also has been a cultural identification link for residents of the northern area of Quintana Roo and an incentive for local tourism, national and foreign.
She recalled that all canoers who make the journey do so voluntarily, after an intense training over six months, in which they test their physical and mental abilities, as well as their spiritual values. Of the total canoers, trained in the schools of Cancún, Xcaret, Xel-Há and Cozumel, 46% are women and 54% are men. On this occasion, it has the participation of 35 foreign canoers, from Argentina, Canada, the United States, Colombia, Venezuela, the United Kingdom, France, Slovakia, Spain and Italy.
In turn, 218 artists participate in ceremonies of music and dance, from the DIF and the House of Culture of Cozumel and Playa del Carmen, the Mayan zone of the south of Quintana Roo, and the Xipetotec cast of Xcaret.
The Sacred Mayan Journey recreates the maritime processions carried out by the ancient Mayans, to worship the goddess Ixchel, starting from the port of Polé (today Xcaret) to arrive at Cuzamil (today Cozumel). The canoers will leave on Friday, May 25th, from Xcaret Park, with the first rays of the sun, to cross the Caribbean Sea over a period of six to eight hours, depending on weather conditions, and arrive at Chankanaab Park in Cozumel. In turn, the return will take place on Saturday May 26th in the morning, anticipating reaching Xcaret around 13:00 hours.
"With the Sacred Mayan Journey we strengthen the appreciation of the ancestral culture, we promote the learning of the past, we reinforce identity and we spread our heritage," said Aguerrebere Salido, at the time of thanking the authorities for their collaboration in the realization of this event, such as the Port Captain of Playa del Carmen Ports, the Naval Sector of Cozumel, the Cozumel Parks and Museums Foundation, as well as the municipalities of Cozumel and Solidaridad.